Our Unflavored Collagen Stick Packets are the perfect on-the-go option to take your collagen anywhere anytime! Easily add to any warm or hot liquid and get your daily collagen need! With 9g of protein and 10g of collagen in every packet, it's as easy as a scoop a day without all the hassle!
Our collagen is sourced from grass-fed, pasture raised bovine to ensure the highest quality and sustainable source of ingredients.
Collagen is found in our tendons, bones, ligaments, and connective tissues to provide the body with strength and elasticity. It is the most abundant protein in our bodies, but as we get older (around the age of 25), our bodies naturally start making less each year! This can contribute to a lot of the sign of aging such as joint pain, poor digestion, thinning hair, and wrinkles.*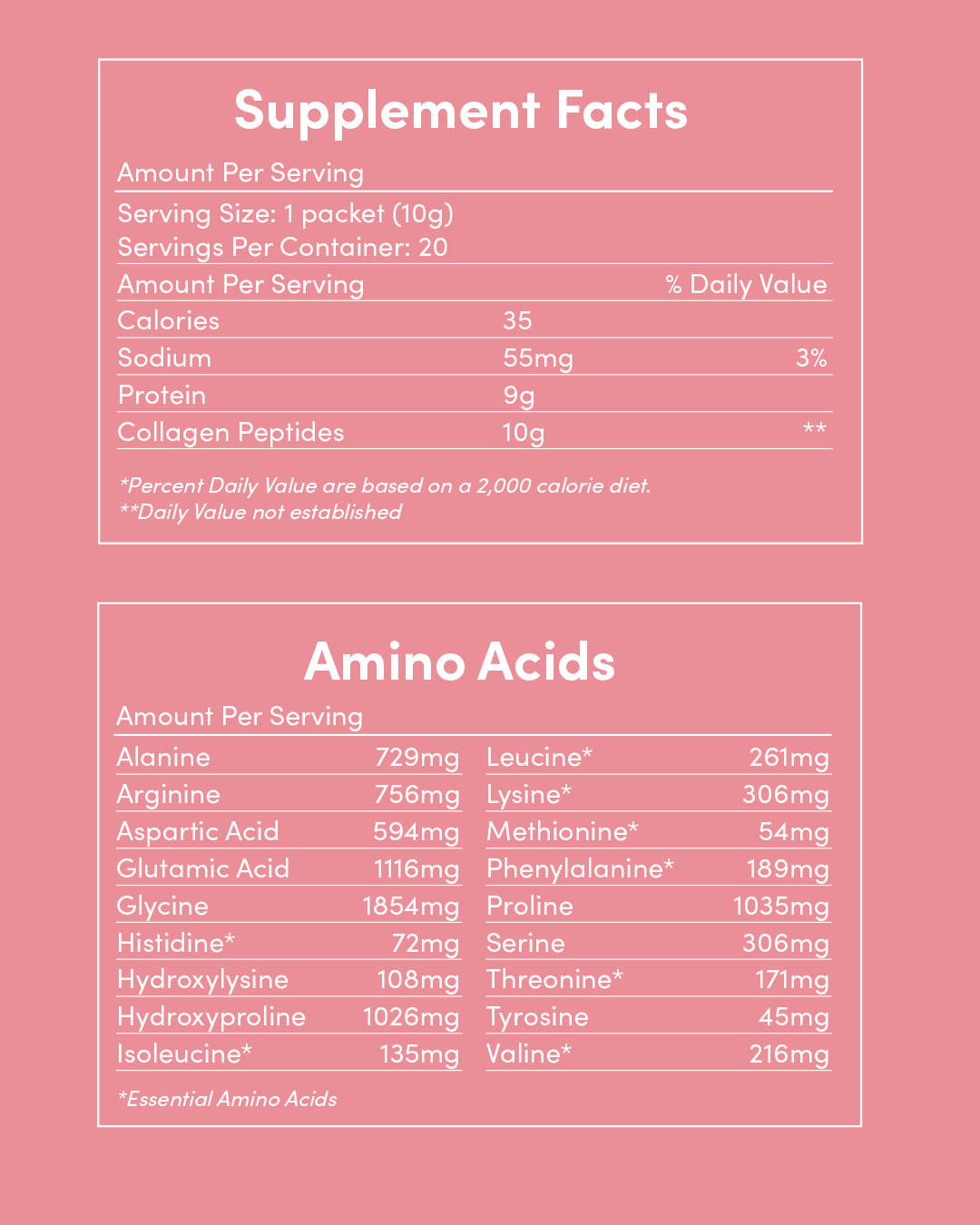 Ingredients: Hydrolyzed Bovine Collagen Peptides

Collagen is a protein that naturally occurs in our bodies, however overtime we start making less of it, which is why it is important to replenish our bodies with a collagen supplement! Collagen has tons of benefits and incorporating it into your daily routine can help with the following!
Beauty & Health Benefits - Supports healthy hair, skin, nails, joints, gut health, and more*
Bioavailable - Easily digested and absorbed into the body
Easy To Use - Simply add to any warm or hot liquid, including coffee, tea, smoothies, and baked goods.
Paleo & Keto Friendly - Non-gmo & sugar, dairy, gluten, and soy free
Women Owned - We started Collagen For Her to help women take the guesswork and confusion out of buying supplements.
Mix one packet of our Collagen Stick Packets to coffee, tea, smoothies, baked goods, and more!
For inspiration on how to use collagen visit our Recipes Blog!
Finally, A Brand Women Can TRUST!
Not All Collagen Is Created Equal!
Insider Tip: If your collagen has a taste, you are buying the wrong collagen! When we say flavorless and tasteless, we mean flavorless and tasteless.
When we say dissolves instantly, we mean instantly. If you have to stir, you need better collagen.
Our collagen peptides are sourced from grass fed, pasture raised bovine in South America. We take sourcing seriously and you should too!
Say No To Gross, Chunky Collagen!
Hear What Our Customers Have To Say!
Customer Reviews
Write a Review
Ask a Question
Filter Reviews:
coffee
nails
hair
collagen
taste
powder
serve packets
improvement
hair growth
smoothies
09/05/2020
Anonymous
United States
Great Product!
I have been using the product for a few months. My hair is full and my nails are strong! I get the unflavored powder and drink it in my coffee every morning. No weird taste and dissolves easily!
09/03/2020
Melissa S.
United States
Love the collagen powder!
I love Collagen for Her. It mixes completely into my coffee and smoothies. It's helping my nails grow, and my bad knees hurt less. I'm on my second can. Love it!
08/27/2020
Hannah G.
United States
Love these!
These stick packets are great on the go! These dissolve immediately and have no taste at all! Highly recommend.
08/27/2020
Kris. R
United States
Great product
I am on my second box of single serve packets and have definitely seen an improvement in my hair growth. I mix it in with my coffee every morning and it is completely tasteless and dissolves nicely. I am very happy with the product will continue to order.
07/31/2020
Anonymous
United States
I like it so far
I ordered the single serve packets just to try it out for 20 days. I've noticed a change in my nails already but no change in my hair so far. I'm sure it takes 20 days to see results though. I think the capsules might be a better choice for me and more convenient but they are currently out of stock. I put it in my morning coffee and it dissolves quickly. There is a slight taste, which is another reason I want to try the capsules.