Get Your Glow On With Our Rose Water Face Mist!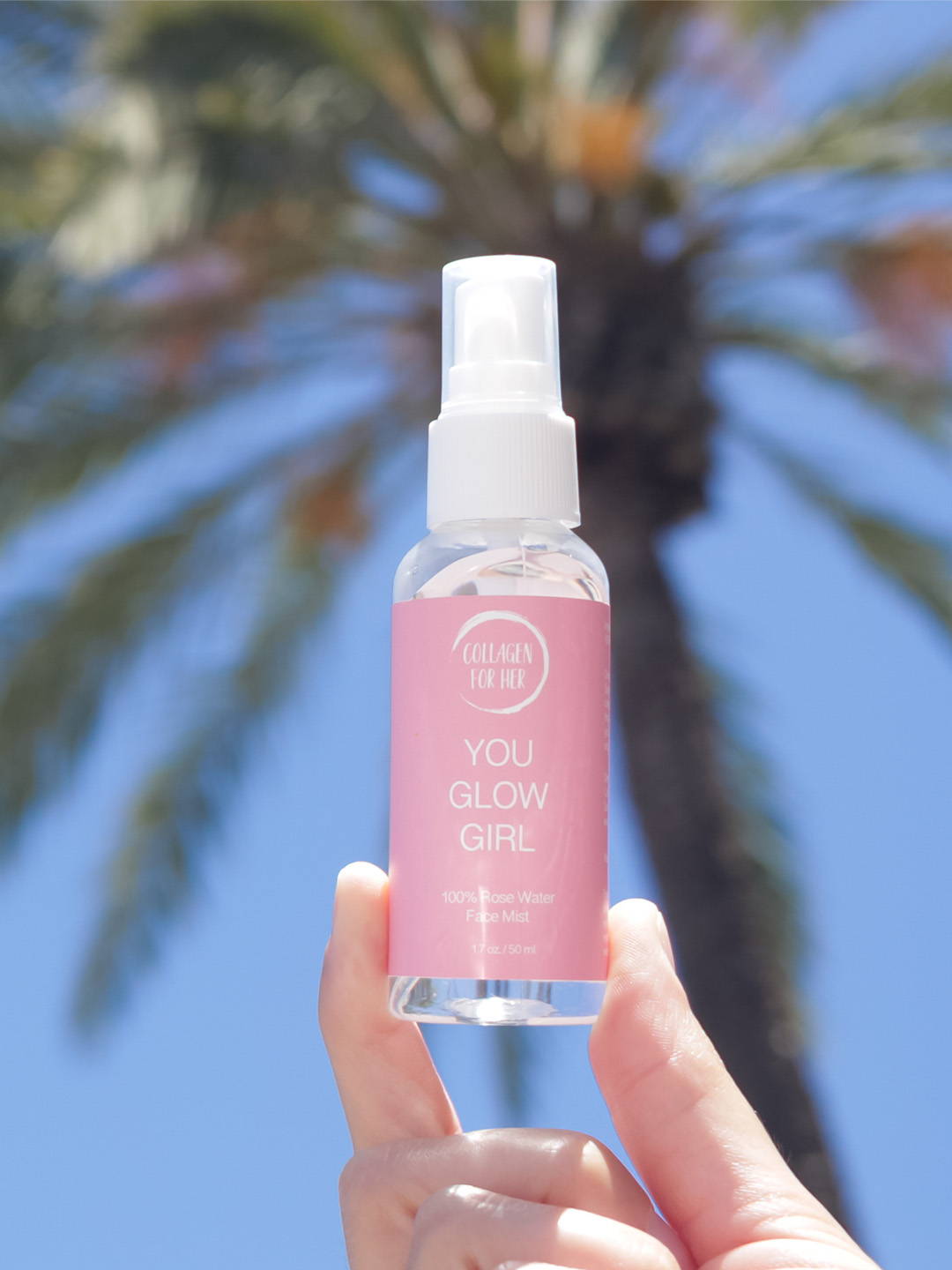 Clean, Soothe, and Hydrate
Collagen For Her's brand new, single ingredient, rose water toner helps clean, soothe, and hydrate your skin. With just one spritz (or two or three - it's addicting!), this energizing rose water face mist purifies and refreshes the skin, leaving it feeling soothed and revitalized. Use it before makeup, as a setting spray, or anytime throughout the day to give your skin a much needed pick-me-up!
The Collagen For Her 100% Pure Rose Water Face Mist is just that, 100% Pure Rose Water! That means no added alcohols, parabens, or any other unknown chemicals that could be potentially harmful to your skin!
The Ultimate Skin Refresh
Life Hack: Keep a bottle in the fridge and spray on your face after spending time in the sun or after a workout and your face will feel A-M-A-Z-I-N-G and refreshed!
Ingredients: 100% Pure Rose Water
All-Natural
Cruelty Free
Paraben Free
Alcohol Free
Directions: Spray on face or body after cleansing your skin and/or throughout the day to keep you skin hydrated, refreshed, and glowing!
Customer Reviews
Write a Review
Ask a Question
Filter Reviews:
benefits
face
Rose Water
cleaning pores
skin refresher
alcohol
plus
fragrance
little
size
08/27/2020
Anonymous
United States
pure rose water
Simple understandable ingredient - this one is 100% pure rose water. I am using it twice a day and it refreshes my face and neck so well. It has a great hydrating effect and is a pure joy on my skin, very soothing, beautiful scent. It doesn't leave my skin dry. Amazing toner, my skin feels pampered every time I use it. Love it!!!
08/27/2020
Katherine E.
United States
Scent is AMAZING! Small enough to carry with me daily.
Love, love, love this! This smells like the most fantastic roses imaginable, very much like one I have in my garden. The scent isn't faint, either, which makes it a very refreshing spray. No worries about the scent lingering, though. It's cooling and dries quickly, so the scent fades, too. It's very hot and humid here, so having something like this handy is an excellent way to put a little self-care in your day. It's simply wonderful. Highly, highly recommended!!
08/27/2020
Ali
United States
I love a good rose water spray!
A little on the smaller side but man, this smells really good to me. It's sweet, lightweight and wakes me up in the mornings. I like the labeling, company behind it and the fact that it has no fillers. I am so happy to add it to my morning routine and am really digging how fresh it makes my face feel. It's a good size for traveling and to throw in your gym bag. I bought a rose water from TJ Maxx once and it smelled...watery. This smell is deep and seems quality. I really like it!
08/27/2020
Anonymous
United States
MAJOR MULTITASKS-ER FOR YOUNG AND MATURE SKIN
What's there not to like about Rose Water! With its numerous benefits such as treating and soothing irritated skin, maintaining skin's PH balance, controlling excess oil, cleaning pores, calming facial redness plus hydrating and toning your skin its the multitask-er for young and mature skin alike! Plus it can be used as a toner or a skin refresher. Not with standing Rose Water's benefits what I like about this particular brand is that it is Pure Rose Water with no other additives like alcohol, Witch Hazel, etc. I found the fragrance to be delightful and not too strong. At 1.7 oz this is a small bottle, but is a perfect travel size. Being made in the USA, for me is also a big plus. If you are new to Rose Water this one is definitely worth a try
Reinventing What "Clean" Skincare Really Means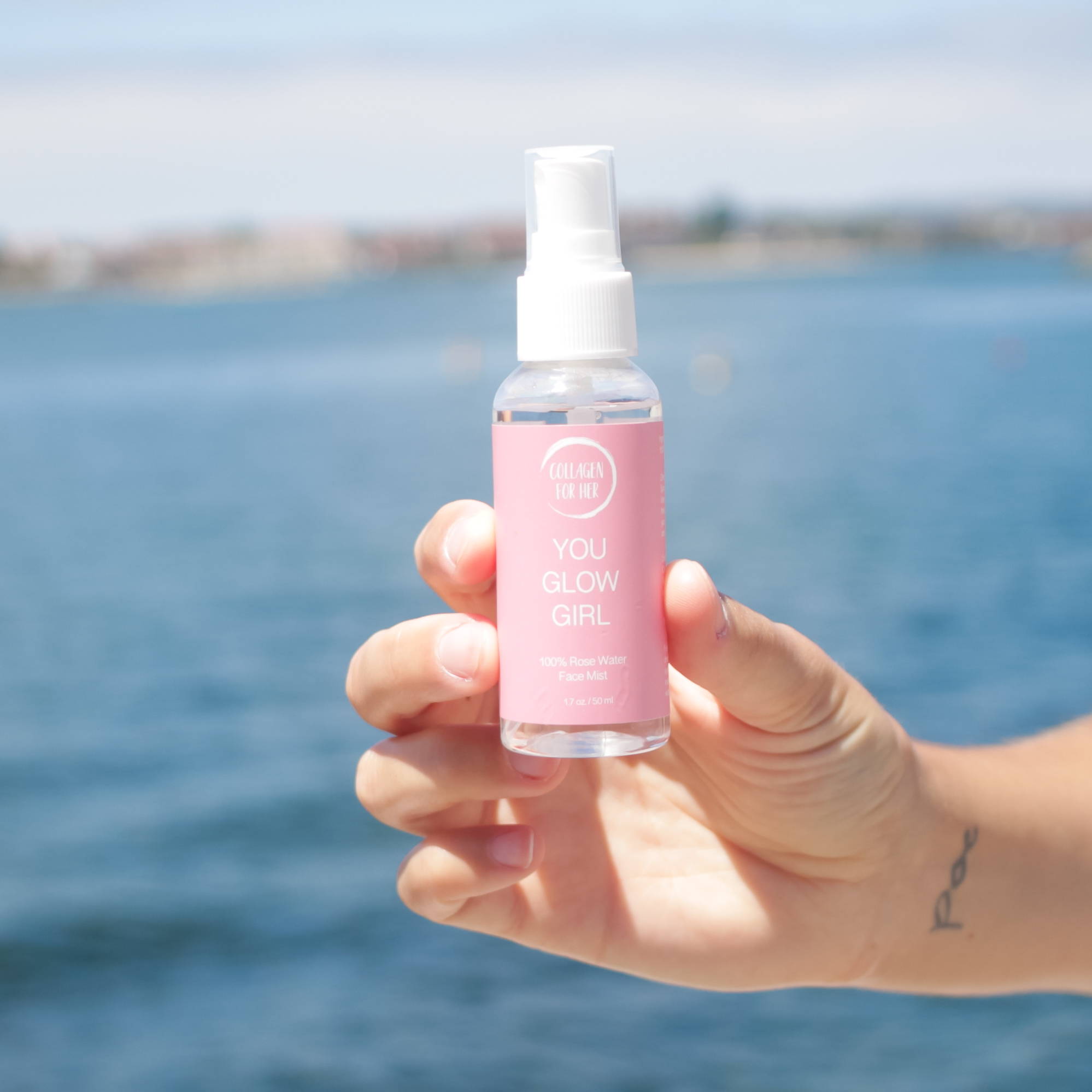 What does "Clean" skincare really mean?
There are so many products out there claiming to be "clean" and "all-natural" but what does that really mean?
Our rule of thumb, whether we are talking about skincare or supplements, is minimal ingredients that you can actually recognize and pronounce. Because if you recognize an ingredient, your body will too!
If you recognize an ingredient, your body will too.
Ingredients: 100% Pure Rose Water