Ingredients: Hydrolyzed Bovine Collagen Peptides, Hydrolyzed Chicken Collagen Peptides, Hydrolyzed Marine Collagen Peptides, Eggshell Membrane Collagen Peptides, Avian Sternum Collagen Peptides
Contains Five Types of Collagen - Types I, II, III, V, X

500mg of collagen per capsule!

Sugar, Gluten, Dairy, & Soy Free

Numerous benefits for your skin, hair, nails, joints, & more!*

Perfect for Paleo and Keto Diets
This is a great product for anyone who is looking to add additional types of collagen into their daily routine. Capsules are also perfect for travel or those busy days when you don't have time to make yourself a collagen drink with our collagen powders. It's a win-win!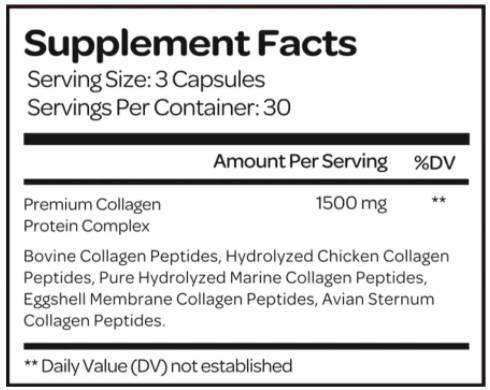 Customer Reviews
Write a Review
Ask a Question
Filter Reviews:
skin
collagen
hair
nails
powder
capsules
difference
routine
improvements
body
01/12/2023
Anonymous

United States
Collagen awesome but points system isnt
I love the collagen but I have points adding up that I can only use if I order something that's not on auto ship. That is kind of inconvenient. Anything I order from you is more user friendly if it's on auto ship. So what do I do with my points? Would be nice if company would allow customers to apply their points to auto ship items.
10/08/2022
Anonymous

United States
It works!
I am 67 with very dry skin. After 2 months, the effects were visible. My hands, where age really shows, became plumper and look younger. I can see it on my face and or places but but the difference in my hands was really noticeable.
09/29/2022
Ellen M.

United States
Self Help
I love the collagen capsules. They are easy to swallow and do not cause any side effects.
09/02/2022
Anonymous

United States
I'm a sucker for anything that will improve my nails,.....
... so I was willing to give this Collagen for Her product a try. Nothing really has helped in the past, and there's a chance that my ten nails may all be different lengths. So I tried. It's been a bit over three months and I am pleased. Thanks for a great product.
07/06/2022
Anonymous

United States
Mulit-C9llagen Caps
I noticed an increase in energy right away, very surprised only taking 2 a day, still on my first bottle. So far so good..