Ingredients: Bamboo Charcoal Powder, Volcanic Clay, Organic Green Tea Extract, Silk Protein Extract Powder, Sodium Hyaluronate (Hyaluronic Acid), Vitamin A, Vitamin E, Sodium Alginate (Seaweed Extract), Aloe Vera Powder, Collagen Powder
All-Natural
Cruelty Free
Paraben Free
Alcohol Free
Directions: Apply a smooth layer over clean, dry skin. Leave on for 10-15 minutes, take a selfie, and tag @CollagenForHer. Rinse with warm water and pat dry. For best results, use 1-2 times per week for glowing and hydrated skin!
MADE WITH 10 INGREDIENTS YOU CAN ACTUALLY PRONOUNCE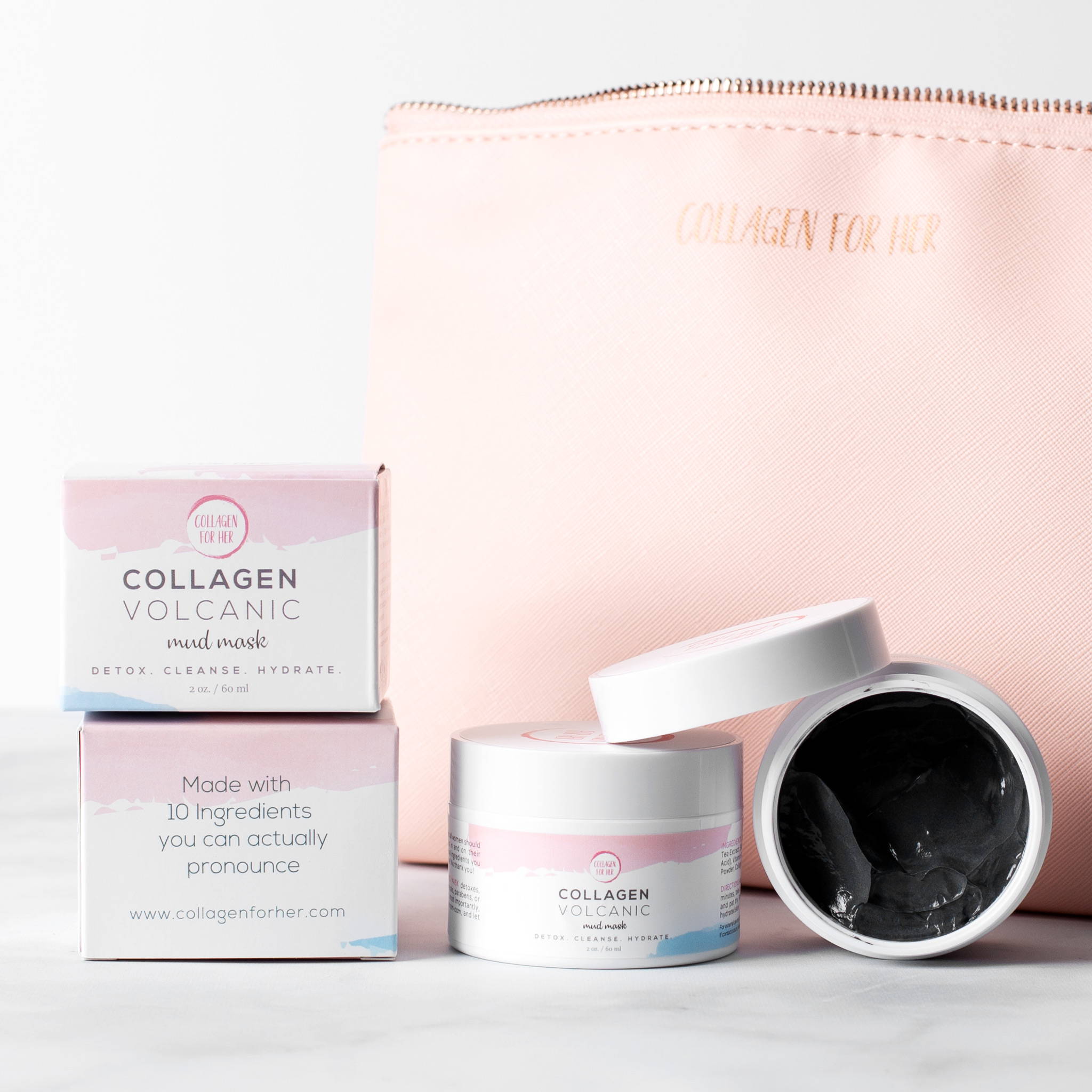 Wouldn't it be cool if you could read a skincare label just like a food label and actually understand what everything is? We thought so too. So we created it!
Real, Pronounceable Ingredients
The Collagen For Her Collagen Volcanic Mud Mask detoxes, cleanses, and hydrates the skin with only 10 ingredients that you can actually recognize and pronounce. That means no harsh chemicals, parabens, or alcohols and you definitely don't need a chemistry degree to decode the label. Because nobody has time for that!
REINVENTING WHAT "CLEAN" SKINCARE REALLY MEANS.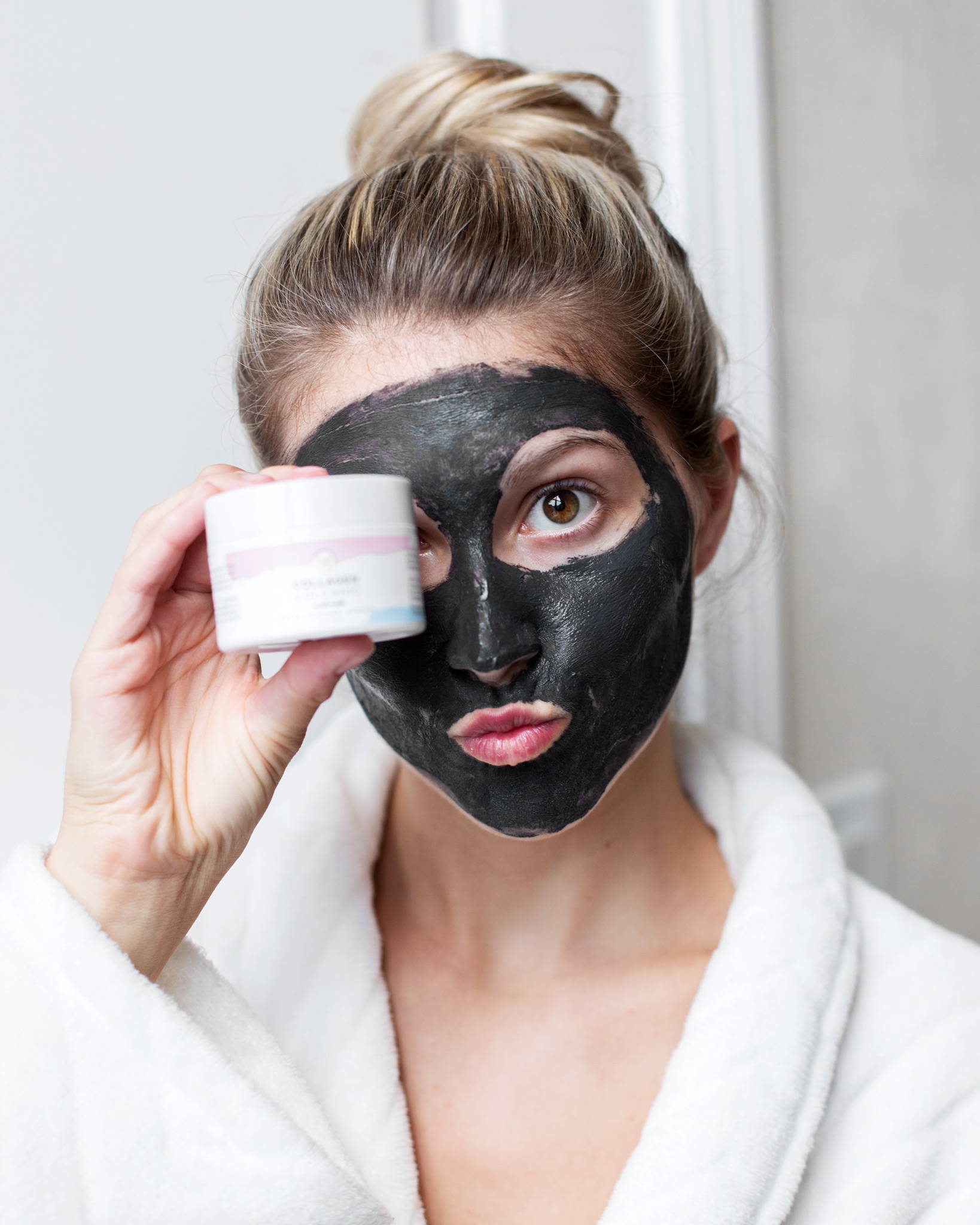 What does "clean" skincare really mean?
There are so many products out there claiming to be "clean" and "all-natural" but what does that really mean?
Our rule of thumb, whether we are talking about skincare or supplements, is minimal ingredients that you can actually recognize and pronounce. Because if you recognize an ingredient, your body will too!
If you recognize an ingredient, your body will too.
Ingredients: Bamboo Charcoal Powder, Volcanic Clay, Organic Green Tea Extract, Silk Protein Extract Powder, Sodium Hyaluronate (Hyaluronic Acid), Vitamin A, Vitamin E, Sodium Alginate (Seaweed Extract), Aloe Vera Powder, Collagen Powder
Customer Reviews
Write a Review
Ask a Question
Filter Reviews:
skin
collagen
ingredients
hair
face
mud mask
nails
water
results
joints
07/01/2023
Niralee P.

United States
07/12/2022
Arna B.

United States
Every day
I put this in my coffee every day. I have been using it for awhile now, and I think it is helping my hair and skin. Maybe my nails, but I still have one nail that splits and another that peels. I do think it is helping my joints.
10/21/2021
Anonymous

United States
Getting Better Each Day
This marine collagen is really great! It mixes in my morning tea effortless and completely and has no after taste. I can see that the results in my skin and nails get better with each day already. I will be taking this for the rest of my life!
10/19/2021
Monique D.

United States
Collegen Supplement
So far, I have had a great experience using this product. It has not been long enough to really see noticeable results, but I plan on continuing to use it. You really can't taste it!
10/19/2021
Fiona H.

United States
I think it works.....
I use the Marine version because I don't eat meat, and also because it has more things in it for the hair. But then I also ordered the Bovine version. I see lots of new hair growth around my scalp line, and the only thing different is using this product...so maybe.....