Collagen For Her Organic Matcha Collagen is the perfect mix of our Unflavored Collagen Peptides and our Organic Japanese Matcha! Matcha contains L-Theanine and natural caffeine that provides energy without the jittery side effects! No more coffee shakes!
Our collagen is sourced from grass-fed, pasture raised bovine to ensure the highest quality and sustainable source of ingredients.
Collagen is found in our tendons, bones, ligaments, and connective tissues to provide the body with strength and elasticity. It is the most abundant protein in our bodies, but as we get older (around the age of 25), our bodies naturally start making less each year! This can contribute to a lot of the sign of aging such as joint pain, poor digestion, thinning hair, and wrinkles.*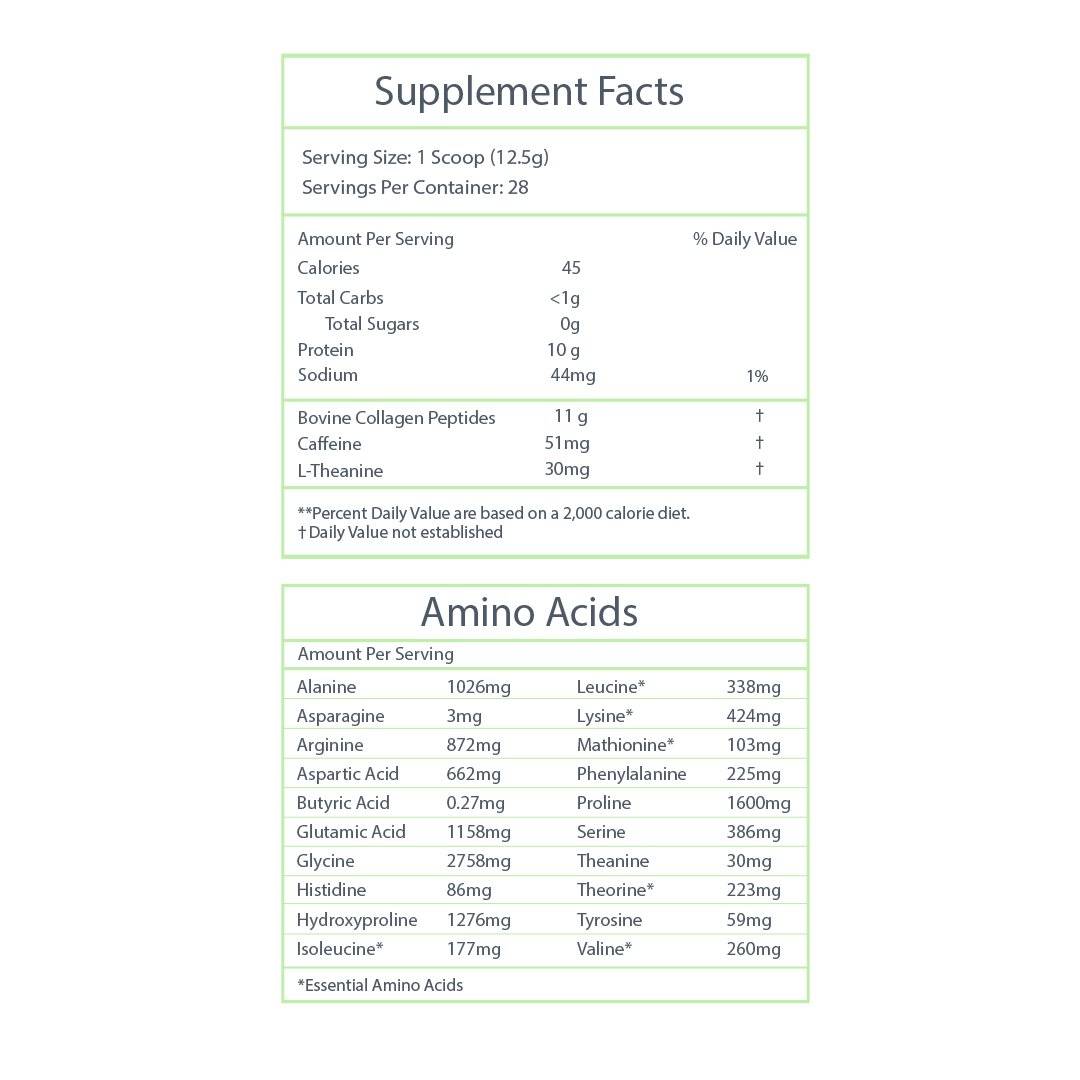 Ingredients - Unflavored Hydrolyzed Bovine Collagen Peptides, Organic Japanese Matcha (Green Tea)

Collagen is a protein that naturally occurs in our bodies, however overtime we start making less of it, which is why it is important to replenish our bodies with a collagen supplement! Collagen has tons of benefits and incorporating it into your daily routine can help with the following!
Beauty & Health Benefits - Supports healthy hair, skin, nails, joints, gut health, and more*
Bioavailable - Easily digested and absorbed into the body
Easy To Use - Simply add to any warm or hot liquid, including coffee, tea, smoothies, and baked goods.
Paleo & Keto Friendly - Non-gmo & sugar, dairy, gluten, and soy free
Women Owned - We started Collagen For Her to help women take the guesswork and confusion out of buying supplements.
Combine one scoop of Collagen For Her organic matcha collagen with 8-12 oz. of hot water or milk and stir until dissolved.

To enjoy a cold matcha beverage, we recommend mixing with room temperature liquid first and then adding ice!
We decided to keep our matcha collagen dairy free and sugar free, so drink it as-is or simply add your favorite sweetener and/or milk of choice to create your perfect matcha beverage!
You can also add a scoop to your favorite smoothie or baked good recipe! Matcha donuts, anyone?
For inspiration on how to use collagen visit our Recipes Blog and check out our Organic Matcha Collagen video below!

Frequently Viewed Together
Hear What Our Customers Have To Say
Customer Reviews
Write a Review
Ask a Question
Filter Reviews:
matcha
flavor
water
feeling
almond milk
matcha flavor
baby hairs
quality
crash
energy
Excellent company and products!
So glad I've discovered CFH! The products are high quality and I'm excited to continue using. I also love that the company is female owned and the founder truly gets what women are looking for in the collagen market!
Tastes like Matcha!
Flavor of this is good. I like the fact it has no sugar. My first week on it and no upset stomach or side effects. I'm excited to start seeing results. The added bonus of this is the natural caffeine in the matcha, so I drink it first thing in the morning. Tip: if you want it in cold liquids, put a tiny bit of hot water to mix it with first then pour in cold liquids (I use almond milk) that way it won't be lumpy.
Extra energy boost
A new product added to my daily habits. My extra caffeine boost I need each day! No crash is the best feeling
Morning Necessity!
This has become a morning necessity for me. I add it to boiling water and then let it cool for a few minutes before I add a bunch of ice, a splash of almond milk, and some raw honey and it's just the most delicious and refreshing start to my day. I am on my 2nd canister of it and I definitely have noticed a change in my energy levels!
One of the best products I've ever purchased for myself!
I Absolutely love and I highly recommend this product!! No more foggy feeling after drinking this everyday!! You will feel wonderful! I purchase this as Birthday gifts that's how strongly I feel about it!